ENTA Lighting Group
Founded in 2004,specializing in LED flexible & linear light strip production, and dedicated to the development & manufacturing of LED lighting & intelligent lighting lamps. We insist on " three innovation "modes which are Product, process & technology innovation. ENTA has a stable Research & Development system, Quality Supervision system, Procurement system & Production & Supply system."Focus on quality of light" ENTA 's product design concept.
2004

Founded in (year)
12000

Production base (square meter)
100

Monthly production capacity of light strip (ten thousand meters)
More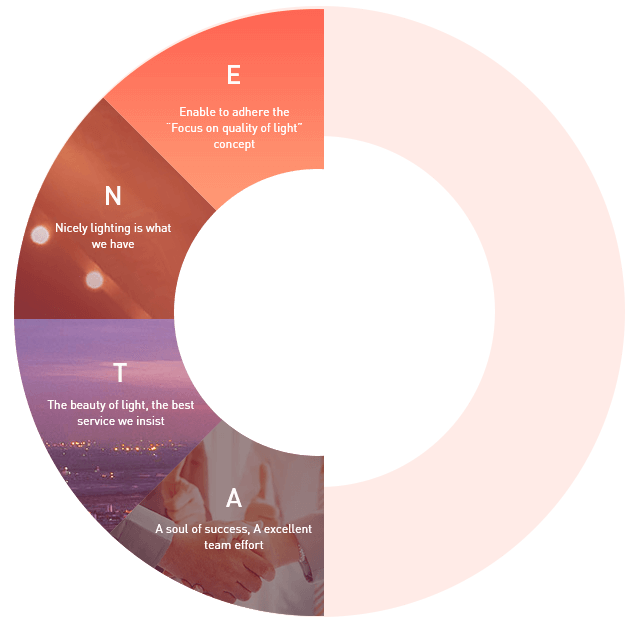 ENTA Brand New Lighting Products
Global Distribution

Enta Lighting has registered brand trademarks in many countries around the world, and has established long-term and stable strategic partnerships with many world-renowned companies. The products are widely sold all over the world and have been recognized by customers.

More
Company History
17 years of rich production history, excellent independent brand
2004

Founded
2005

Successfully developed the first generation of aluminum housing ultra-thin waterproof LED advertising module
2006

Successfully developed the first generation bare board IP20 yellow board 3528/505 OLED flexible light strip
2007

Successfully developed the world's first surface epoxy lP45LED soft light strip
2008

Successfully developed the second-generation product, the world's first IP20led flexible lamp with DIY rabbit solder connector
2009

Successfully developed the world's first IP45IED flexible lamp with DIY solder-free connector and successfully introduced it to Häfele, Germany
2010

Successfully developed lp65 silicone sleeve LED waterproof flexible light strip and launched DIY waterproof solderless connector
2011

First breakthrough in the annual sales of 10 million meters of IED soft light belts, annual sales exceeded 100 million yuan, and successfully entered the top 100 LED application lighting companies
2012

Was rated as "Guangdong Province Independent Brand Excellent Enterprise"
2013

Appraised as "National High-tech Enterprise"
2014

Successfully developed the first generation of seamless LED line lights
2015

Introduced the second generation LED strip with 20 meters high color rendering (Ra>90) with no voltage drop and light efficiency>130LM/W
2016

The world's first one-time two-color extrusion molding IP66 waterproof LED light strip to replace the silicone tube waterproof light strip, and successfully introduced the German OSRAM company
2017

Officially launched the IPO listing procedure on the overseas Dutch main board to enhance the international brand image of ENTA
2018

Successfully developed an ultra-small, shadow-free neon light
2019

Successfully introduced the American GE series products
2020

Developed the 50-meter lamp belt series and launched the sterilization kitchen and bathroom lamp series products
17

17 years of rich production history
90

Obtained honorary qualification certification
300

Professional technical team
8000

Cooperative customers all over the world